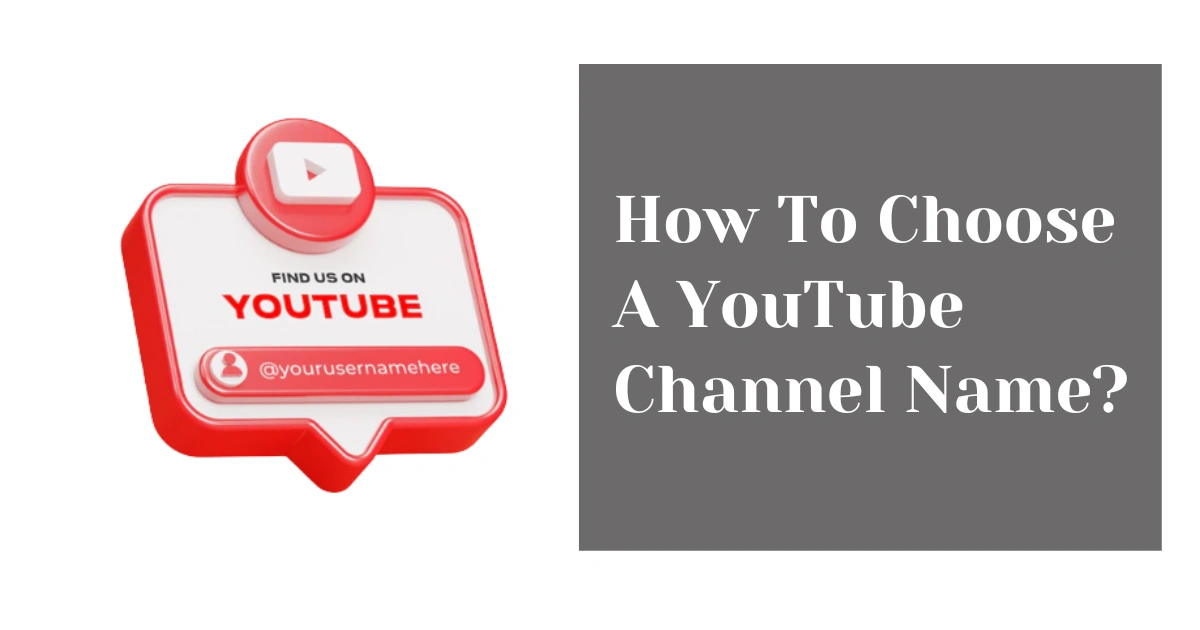 What is a YouTube Channel Name and Why is it Important?
In the vast landscape of YouTube, a channel name serves as your digital identity and plays a crucial role in attracting viewers, establishing brand recognition, and conveying the essence of your content. Choosing the right YouTube channel name is an important decision that can significantly impact the success of your channel.
In this article, we will explore what a YouTube channel name is, its significance, and tips for selecting a compelling and memorable name.
Definition of a YouTube Channel Name: A YouTube channel name is the unique identifier that represents your channel on the platform. It is the name viewers will see when they come across your videos, subscribe to your channel, and share your content. The channel name appears prominently on your channel page, video thumbnails, and in search results.
Brand Recognition and Identity: A well-crafted Youtube channel name helps in establishing brand recognition and identity. It should reflect the theme, niche, or purpose of your content, and resonate with your target audience. A memorable and catchy name can make your channel stand out amidst the vast sea of YouTube content, making it easier for viewers to remember and recommend your channel to others.
Discoverability and Searchability: A strategically chosen Youtube channel name can enhance your channel's discoverability. Incorporating relevant keywords or terms related to your content in the channel name can improve your chances of appearing in search results when users are looking for specific topics or content types. This can lead to increased visibility, organic traffic, and potential subscriber growth.
Audience Connection and Engagement: A compelling Youtube channel name helps in forging a connection with your target audience. It should resonate with their interests, evoke curiosity, or communicate the value they can expect from your content. A strong channel name can pique viewers' interest, encourage them to explore your videos, and foster engagement through likes, comments, and subscriptions.
Consistency and Long-Term Branding: Selecting a Youtube channel name that aligns with your long-term goals and content strategy ensures consistency across your videos and builds a recognizable brand identity. It allows you to maintain a cohesive presence on YouTube, establish credibility, and create a loyal subscriber base. A consistent and memorable channel name also facilitates cross-promotion on other social media platforms, making it easier for viewers to find and follow your content across different channels.
YouTube Channel Name Ideas 2023
Cooking/Food Channel Name Ideas:
1. Tasty Bites
2. Flavorful Kitchen
3. Gourmet Delights
4. Culinary Chronicles
5. Savory Secrets
6. Food Fusion
7. Spice and Everything Nice
8. The Hungry Chef
9. Epicurean Eats
10. Taste Temptations
11. Gastronomic Gurus
12. Cooking Connoisseurs
13. Sizzling Recipes
14. The Flavor Lab
15. Foodie Fantasia
16. Dish Divas
17. Masterful Munchies
18. Kitchen Magic
19. Flavor Fiesta
20. Cook With Love
21. The Recipe Vault
22. Flavorsome Fare
23. Cooking Caper
24. Savory Serenade
25. Foodie Frenzy
26. The Gourmet Gazette
27. Delish Dishes
28. Culinary Creatives
29. The Palate Project
30. Taste Bud Tales
31. Foodie Finds
32. Flavor Fusion
33. Tantalizing Tastes
34. Chef's Corner
35. Flavorful Finds
36. The Cooking Compass
37. Recipe Revolution
38. Culinary Canvas
39. Flavor Trail
40. Kitchen Chronicles
41. Delectable Discoveries
42. Spice Squad
43. The Tasty Journey
44. Cook's Companion
45. Flavor Adventure
46. Dish Detectives
47. Foodie Phenomenon
48. Culinary Charms
49. Tastes of Tradition
50. The Recipe Repository
Music Channel Name Ideas:
1. Melodic Musings
2. Harmonious Haven
3. Musical Voyage
4. Sound Sensations
5. Rhythmic Reverie
6. Melody Masters
7. Soulful Symphony
8. Harmonic Haven
9. Musical Medley
10. Tune Titans
11. Songbird Stories
12. Harmonious Homage
13. Melody Mavericks
14. Beat Boulevard
15. Note Nirvana
16. Harmonic Journey
17. Crescendo Chronicles
18. Musical Mosaic
19. Harmonious Harmony
20. Rhythm Retreat
21. Melody Makers
22. Symphonic Serenade
23. Harmonic Hues
24. Tune Tales
25. Rhythmic Rhapsody
26. Serenade Central
27. Melody Manifesto
28. Harmonic Hideout
29. Musical Memoirs
30. Rhythm Reverie
31. Songbird Sanctuary
32. Harmonious Highs
33. Beat Boulevard
34. Melodic Memories
35. Harmonic Haven
36. Tune Titans
37. Songbird Stories
38. Harmonious Homage
39. Melody Mavericks
40. Beat Boulevard
41. Note Nirvana
42. Harmonic Journey
43. Crescendo Chronicles
44. Musical Mosaic
45. Harmonious Harmony
46. Rhythm Retreat
47. Melody Makers
48. Symphonic Serenade
49. Harmonic Hues
50. Tune Tales
Dance YouTube Channel Ideas:
1. Dance Dynamics
2. Rhythm Revolution
3. Groove Guru
4. Dance Diaries
5. Choreo Connect
6. Move Masters
7. Dance Delight
8. Beat Breakers
9. Dance Fusion
10. Step Up Showcase
11. Dance Dreamers
12. Fancy Footwork
13. Dance Domain
14. Expressive Moves
15. Dance Depot
16. The Dance Diaries
17. The Dance Diaries
18. Rhythm Runway
19. Dance Evolution
20. Groove Gallery
21. Dance Dynamics
22. Beat Blitz
23. Dance Divas
24. Move & Groove
25. Choreo Connection
26. Funky Footsteps
27. Dance Finesse
28. Step Up Sensation
29. Dance Voyage
30. Moves Manifesto
31. Dance Fusion
32. Dance Enclave
33. Footwork Fiesta
34. Dance Delight
35. Rhythm Rebels
36. Dance Mania
37. Groove Galore
38. Dance Discovery
39. Move Masters
40. Choreography Central
41. Dance Wonderland
42. Beat Breakers
43. Dance Dynasty
44. Funk Factory
45. Dance Oasis
46. Step Up Showcase
47. Dance Revolution
48. Expressive Moves
49. Dance Depot
50. The Dance Hub
Motivational YouTube Channel Names:
1. Motivation Station
2. Inspire Quest
3. Empower Me Now
4. Rise and Shine
5. Motivational Moments
6. Unlock Your Potential
7. Success Mindset
8. Positive Vibes Only
9. Motivate and Elevate
10. Dream Big, Achieve Bigger
11. Inner Power Chronicles
12. Courageous You
13. Motivation Manifesto
14. Inspire Greatness
15. Achieve Beyond Limits
16. Mindset Mastery
17. Motivation Magic
18. The Motivation Movement
19. Rise to Success
20. Be Fearless, Be Free
21. Ignite Your Passion
22. Inspire and Thrive
23. Dream, Believe, Achieve
24. Motivation Nation
25. Your Path to Greatness
26. Positivity Pulse
27. Empowered Living
28. The Motivation Matrix
29. Believe in You
30. Motivation Manifest
31. Power Within
32. Inspiration Injection
33. Dream Chasers
34. Rise Above It All
35. Motivation Mavericks
36. Unlock Your Greatness
37. Inner Drive Chronicles
38. Motivation Junction
39. Rise Up and Succeed
40. Fearless Pursuit
41. Inspire the Fire
42. Motivate and Conquer
43. The Power Within You
44. Success Blueprint
45. Achieve Your Dreams
46. Motivation Central
47. Dare to Dream Big
48. Rise and Thrive
49. Inspired Actions
50. Motivation Arsenal
Fashion Channel Names:
1. Style Sensei
2. Trendy Tales
3. Fashion Forward
4. Chic Chronicles
5. Glam Guru
6. Vogue Vibes
7. The Fashion Files
8. Couture Central
9. Style Statement
10. Fashionista Diary
11. Trendsetter Tales
12. Haute Couture Haven
13. The Stylish Side
14. Glamour Gazette
15. Runway Rendezvous
16. Fashion Fixation
17. Chic Curation
18. Style Sanctuary
19. Dress to Impress
20. Fashion Fusion
21. The Fashion Formula
22. Fabulous Finds
23. Trend Tracker
24. Glamour Guide
25. Chic Chic Boom
26. The Style Spot
27. Sartorial Stories
28. Fashion Finesse
29. Couture Chronicles
30. Trend Talk
31. Style Sensation
32. Fashion Fever
33. Chic Chic Hooray
34. Glam Squad
35. Style Siren
36. Fashion Fix
37. Trendy Tips
38. The Stylish Edit
39. Glamour Gazette
40. Couture Crush
41. Fashion Fusion
42. Chic Couture
43. Trend Tracker
44. Style Savant
45. Fashion Finesse
46. Chic Chic Boom
47. Runway Revelry
48. Fabulous Finds
49. Glam Guide
50. Style Street
Weddings YouTube Channel Names:
1. Wedding Wonders
2. Bridal Bliss
3. Forever and Ever
4. Wedding Whispers
5. Happily Ever After
6. The Wedding Gazette
7. Love in Motion
8. Bridal Diaries
9. Wedded Wonderland
10. Vows and Vows
11. Dreamy I Dos
12. Wedding Wishes
13. The Knot Chronicles
14. Wedding Inspiration
15. Cherished Moments
16. Bridal Beauty
17. Love Storytellers
18. Wedding Bells and Whistles
19. Forever Yours
20. Nuptial Narratives
21. Picture Perfect Weddings
22. The Wedding Journal
23. Blissful Beginnings
24. Bridal Bonanza
25. Love Unveiled
26. Wedding Whirlwind
27. Vow Ventures
28. The Wedding Showcase
29. Enchanting Ever After
30. Happily Hitched
31. The Bridal Gazette
32. Marital Magic
33. Love's Journey
34. Wedding Dreams
35. Forever and a Day
36. The Wedding Album
37. Bridal Blissfulness
38. Tying the Knot Tales
39. Celebrate Love
40. Wedding Wonderscapes
41. Love's Symphony
42. Bridal Chronicles
43. Eternally Yours
44. Wedding Whispers
45. Forever and Ever
46. The Wedding Gazette
47. Love in Motion
48. Bridal Diaries
49. Wedded Wonderland
50. Vows and Vows
Baby/Parenting Channel Names:
1. Parenting Pointers
2. Mommy and Me Moments
3. Baby Bliss
4. Parenting Pioneers
5. Joyful Journey
6. Little Lullabies
7. The Parenting Project
8. Raising Royals
9. Caring Connections
10. Tender Tots
11. Nurture and Nourish
12. Mommy Musings
13. Precious Parenthood
14. The Parenting Gazette
15. Tiny Tales
16. Blissful Babyhood
17. Parenting Perspectives
18. Growing Together
19. Baby Steps
20. Parenting Pathways
21. Cherished Chatter
22. Love and Learn
23. Nurturing Moments
24. The Parenting Patch
25. Baby Bloom
26. Parenting Playbook
27. Little Life Lessons
28. Mommy Magic
29. Cuddle Chronicles
30. Parenting Perspectives
31. Precious Pitter-Patter
32. Blissful Beginnings
33. Raising Rainbows
34. The Parenting Portfolio
35. Tiny Triumphs
36. Nurture Nation
37. Baby Bonding
38. Parenting Paradigm
39. Joyful Journeys
40. Growing with Love
41. Baby Blissfulness
42. The Parenting Primer
43. Parenting Palooza
44. Cherished Connections
45. Little Laughs
46. Mommy Memoirs
47. The Parenting Patch
48. Baby Bloom
49. Parent
50. Parenting Pathways
Educational YouTube Name Ideas:
1. Knowledge Junction
2. Learn and Grow
3. Academic Adventures
4. Study Success
5. Brain Boosters
6. Enlightened Minds
7. Learning Lab
8. Scholarly Secrets
9. Educational Emporium
10. Wise Wonders
11. Mindful Mentors
12. The Learning Lounge
13. Intellect Insights
14. Curiosity Chronicles
15. Educational Endeavors
16. Brainy Buzz
17. The Knowledge Kingdom
18. Study Spot
19. Educational Excursions
20. Enlightened Explorations
21. The Learning Loop
22. Intellectual Insights
23. Brainy Bits
24. The Knowledge Hub
25. Study Savvy
26. Enlightened Enclave
27. Learning Landmarks
28. Knowledge Quest
29. Mindful Masters
30. Academic Avenues
31. Brainy Breakthroughs
32. The Learning Lighthouse
33. Intellect Infusion
34. Curiosity Cabinet
35. Educational Oasis
36. Wise Whispers
37. Enlightened Express
38. Learning Lane
39. Intellect Illumination
40. The Knowledge Nexus
41. Study Solutions
42. Enlightened Excursions
43. Brainy Bites
44. The Learning Link
45. Intellectual Insights
46. Curiosity Classroom
47. Educational Empowerment
48. Wise Ways
49. Enlightened Explorers
50. Mindful Mastery
Entertainment YouTube Channel Names:
1. Fun Frenzy
2. Entertainment Express
3. The Entertainment Lounge
4. Fun Factory
5. Entertainers Extraordinaire
6. Laughter Lane
7. The Entertainment Oasis
8. Joyful Jamboree
9. The Entertainment Chronicle
10. Fun and Frolic
11. Entertainment Expedition
12. The Joy Junction
13. Vibrant Vibes
14. Fun Fest
15. The Entertainment Extravaganza
16. Joyful Journey
17. Sparkle and Shine
18. Fun Frontier
19. Entertainment Ecstasy
20. The Joyful Gazette
21. The Entertainment Emporium
22. Blissful Entertainment
23. Happy Hours
24. Fun Flicks
25. Entertainment Euphoria
26. The Joyful Journey
27. Sparkling Spectrum
28. The Entertainment Enclave
29. Fun Factory
30. The Entertainment Oasis
31. Laughter Lane
32. Entertainers Extraordinaire
33. Joyful Jamboree
34. The Entertainment Chronicle
35. Fun and Frolic
36. Entertainment Expedition
37. The Joy Junction
38. Vibrant Vibes
39. Fun Fest
40. The Entertainment Extravaganza
41. Joyful Journey
42. Sparkle and Shine
43. Fun Frontier
44. Entertainment Ecstasy
45. The Joyful Gazette
46. The Entertainment Emporium
47. Blissful Entertainment
48. Happy Hours
49. Fun Flicks
50. Entertainment Euphoria
Finance Channel Names:
1. Wealth Wisdom
2. Money Matters
3. Financial Frontier
4. Finance Fundamentals
5. Prosperity Principles
6. Dollar Dynasty
7. The Financial Gazette
8. Fiscal Fitness
9. Financial Focus
10. Wealth Wizards
11. Money Masterminds
12. The Finance Factory
13. Thrifty Tips
14. Financial Freedom
15. Wealth Workshop
16. Budgeting Basics
17. Financial Insights
18. Wealth and Wisdom
19. Money Mastery
20. The Financial Blueprint
21. Prosperity Pathways
22. Dollar Diaries
23. The Finance Forum
24. Wise Wealth
25. Fiscal Fitness
26. Financial Foundations
27. Wealth Warriors
28. Money Matters
29. The Finance Frontier
30. Thrifty Trends
31. Financial Fundamentals
32. Wealth Wizards
33. Money Mindset
34. The Financial Fortress
35. Prosperity Principles
36. Dollar Dynasty
37. The Financial Gazette
38. Fiscal Fitness
39. Financial Focus
40. Wealth Workshop
41. Budgeting Basics
42. Financial Insights
43. Wealth and Wisdom
44. Money Mastery
45. The Financial Blueprint
46. Prosperity Pathways
47. Dollar Diaries
48. The Finance Forum
49. Wise Wealth
50. Fiscal Fitness
Healthcare/Medical YouTube Channel Names:
1. Health Matters
2. Medical Moments
3. Wellness Wisdom
4. Health Hub
5. Vitality Vault
6. The Medical Gazette
7. Wellness Wave
8. Healthcare Chronicles
9. Healthy Habits
10. MedTalks
11. Wellness Walk
12. The Health Horizon
13. Medical Memoirs
14. Healthy Insights
15. Wellbeing Warriors
16. The Wellness Workshop
17. Healthcare Handbook
18. Health Harmony
19. MedEd
20. The Wellness Way
21. The Health Oasis
22. Medical Miracles
23. Wellness Whispers
24. Healthcare Heroes
25. The Wellness Way
26. Health Harmony
27. MedEd
28. The Wellness Workshop
29. Healthcare Handbook
30. Health Matters
31. Medical Moments
32. Wellness Wisdom
33. Health Hub
34. Vitality Vault
35. The Medical Gazette
36. Wellness Wave
37. Healthcare Chronicles
38. Healthy Habits
39. MedTalks
40. Wellness Walk
41. The Health Horizon
42. Medical Memoirs
43. Healthy Insights
44. Wellbeing Warriors
45. The Wellness Workshop
46. Healthcare Handbook
47. Health Harmony
48. MedEd
49. The Wellness Way
50. Health Matters
Makeup Channel Name Ideas:
1. Glamorous Glow
2. Beauty Basics
3. Makeup Magic
4. Beauty and Beyond
5. Flawless Finesse
6. Makeup Memoirs
7. Glam Gurus
8. The Makeup Maven
9. Radiant Revelations
10. Beauty Blitz
11. Makeup Mastery
12. Glam Squad
13. Beauty Bazaar
14. Makeup Melodies
15. The Glam Gazette
16. Beauty Boulevard
17. Makeup Miracles
18. Flawless Face
19. Glamour Guide
20. Makeup Mania
21. Beauty Beat
22. The Makeup Memoir
23. Glamour Gazette
24. Beauty Boulevard
25. Makeup Miracles
26. Flawless Face
27. Glamour Guide
28. Makeup Mania
29. Beauty Beat
30. The Makeup Memoir
31. Radiant Revelations
32. Beauty Blitz
33. Makeup Mastery
34. Glam Squad
35. Beauty Bazaar
36. Makeup Melodies
37. The Glam Gazette
38. Beauty Boulevard
39. Makeup Miracles
40. Flawless Face
41. Glamour Guide
42. Makeup Mania
43. Beauty Beat
44. The Makeup Memoir
45. Glamorous Glow
46. Beauty Basics
47. Makeup Magic
48. Beauty and Beyond
49. Flawless Finesse
50. Makeup Memoirs
Pregnancy Channel Ideas for YouTube:
1. Pregnancy Pals
2. Baby Bumps and Beyond
3. Mommy Milestones
4. Expecting Excitement
5. The Pregnancy Journal
6. Bump Chronicles
7. Pregnancy Power
8. Mommy-to-Be Memoirs
9. Baby Belly Bliss
10. The Pregnancy Pathway
11. Joyful Journey to Motherhood
12. Expectant Euphoria
13. Mommy Mode
14. Baby Bump Diaries
15. The Pregnancy Gazette
16. Parenting Preparations
17. Pregnancy Perspectives
18. Bump to Baby
19. The Pregnancy Playground
20. Mommy Moments
21. Nurture and Nourish
22. Baby on Board
23. The Pregnancy Patch
24. Blissful Bump
25. The Expectant Enclave
26. Parenting Preparations
27. Pregnancy Perspectives
28. Bump to Baby
29. The Pregnancy Playground
30. Mommy Moments
31. Nurture and Nourish
32. Baby on Board
33. The Pregnancy Patch
34. Blissful Bump
35. The Expectant Enclave
36. Bump Chronicles
37. Pregnancy Power
38. Mommy-to-Be Memoirs
39. Baby Belly Bliss
40. The Pregnancy Pathway
41. Joyful Journey to Motherhood
42. Expectant Euphoria
43. Mommy Mode
44. Baby Bump Diaries
45. The Pregnancy Gazette
46. Parenting Preparations
47. Pregnancy Perspectives
48. Bump to Baby
49. The Pregnancy Playground
50. Mommy Moments
How To Name Your YouTube Channel?
Naming your YouTube channel is an important step in creating your online brand and attracting viewers. Here are some tips to help you come up with a compelling and memorable name for your YouTube channel:
Reflect your content: Choose a name that accurately represents the theme, niche, or topic of your videos. It should give viewers an idea of what they can expect from your channel.
Keep it short and memorable: Aim for a name that is concise and easy to remember. Avoid long, complicated, or confusing names that may be difficult for viewers to recall.
Be unique and distinctive: Stand out from the crowd by selecting a name that is unique and differentiates your channel from others. Avoid using generic or common terms that may blend in with similar channels.
Consider keywords: Incorporate relevant keywords or terms related to your content in the channel name. This can help with search engine optimization and improve your chances of appearing in search results.
Brand consistency: If you already have an existing brand or online presence, consider incorporating elements of your brand into the channel name. This helps in creating a cohesive identity across different platforms.
Think long-term: Choose a name that will still be relevant and meaningful in the future. Consider the potential growth and evolution of your channel and ensure the name can accommodate future content expansion.
Get feedback: Seek input from friends, family, or your target audience. Share potential name options and gather feedback on their appeal and effectiveness.
Check for availability: Before finalizing your channel name, make sure it is not already in use by another YouTube channel or trademarked by someone else. Conduct a search to ensure your chosen name is unique.
Test it out: Once you have a few potential names, say them out loud and see how they sound. Consider how they would look in your channel banner or logo. Test the name with a small group of people to gauge their reactions and impressions.
Be creative and have fun: Don't be afraid to think outside the box and let your creativity shine. Your channel name should reflect your personality and passion for your content.
Remember, your YouTube channel name will be an integral part of your brand identity, so take the time to brainstorm, explore different options, and choose a name that resonates with you and your target audience.
How To Change Your YouTube Channel Name?
How To Choose Good YouTube Channel Name?
To change your YouTube channel name, follow these steps:
Sign in to your YouTube account: Go to YouTube and sign in with the Google account associated with your channel.
Access your YouTube Studio: Click on your profile picture or avatar in the top-right corner of the screen. From the drop-down menu, select "YouTube Studio."
Go to the Customization tab: In YouTube Studio, click on the "Customization" tab on the left-hand side of the screen.
Navigate to the Basic Info section: Under the "Customization" tab, you'll see different sections. Click on "Basic Info" to access your channel settings.
Edit your channel name: In the Basic Info section, you'll find various details about your channel. Look for the "Channel Name" field and click on the pencil icon next to it.
Enter a new name: Type in the new name you want for your YouTube channel. Make sure to choose a name that follows YouTube's community guidelines and terms of service.
Preview and save changes: Before saving the changes, you can preview how your new channel name will appear. Once you're satisfied, click on the "Publish" or "Save" button to apply the new name to your channel.
Confirmation: YouTube may ask you to confirm the name change by entering your account password or providing additional verification, depending on your account settings.
Wait for the changes to take effect: It may take some time for the name change to reflect across YouTube and other associated platforms. Be patient, and your new channel name will be updated.
Note: Keep in mind that you can only change your channel name three times within a 90-day period. So, choose your new name wisely.
Remember that changing your channel name may affect your branding and how viewers identify your channel. It's recommended to choose a name that aligns with your content and long-term goals to maintain consistency and avoid confusion among your subscribers and audience.
What Is The Most Popular Channel Name on YouTube?
Conclusion: In the dynamic world of YouTube, a channel name holds great significance. It serves as the face of your brand, helps in establishing recognition, boosts discoverability, fosters audience connection, and supports long-term branding efforts.
When choosing a YouTube channel name, consider your content niche, target audience, brand identity, and long-term goals. Strive for a name that is unique, memorable, and representative of your channel's essence.
Take the time to research, brainstorm, and test different options before finalizing your channel name. Remember, a well-chosen channel name can contribute to the success and growth of your YouTube journey.