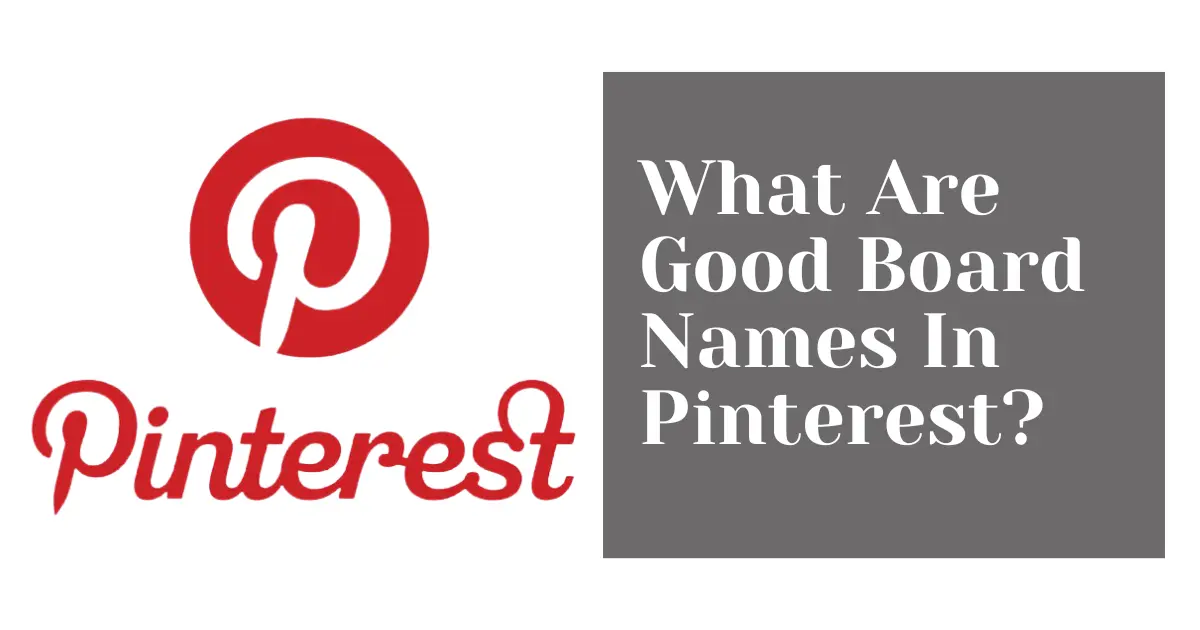 Pinterest Board Names For Top 20+ Niches
Ideas for pinterest board names for most popular, favored topics for your pins. Browse the list and create your Pinterest board today now!
Are you looking for the best Pinterest board names ideas to create your own? [Pinterest Board Name Generator]
What is Pinterest?
Pinterest is one of the most visually tempting social media sites that globaly. Platform allows you to create boards (Group) for pin (Post) items. You can use tools like Adobe Spark, Canva, Crello etc… to create your own customized creative pin graphic.
A Pinterest board is a collection of pins organized around a specific topic or theme. Pinterest users can create multiple boards, and each board can contain multiple pins. Users can add their own pins or save pins from other users to their boards.
Pinterest boards are a way for users to curate and organize content that they find interesting or relevant. Boards can be made public or private, and users can invite others to collaborate on a board by allowing them to add or remove pins.
Boards are an essential aspect of the Pinterest platform and help users discover new ideas, products, and content related to their interests.
Wikipedia – Pinterest is an image sharing and social media service designed to enable saving and discovery of information on the internet using images, and on a smaller scale, animated GIFs and videos, in the form of pinboards.
What is Pinterest board?
A Pinterest board is a collection where users save specific pins. Usually, each board has its own independent theme or purpose. For instance, you may have a social media marketing board or a graphic design board.
Your Pinterest profile is made up of multiple boards that cover each of your interests. As time passes, users either add extra content to their Pinterest boards or create new ones.
Pinners (the other users on Pinterest) follow either your entire Pinterest account or the specific boards that interest them the most.
Users loved these new types of images sharing and lots of interesting & amazing creative boards.
Is Pinterest good for SEO?
Yes, Pinterest can be good for SEO (search engine optimization). Pinterest is a social media platform that allows users to share and discover content, including images and videos. When users save or "pin" content to their boards, they create links back to the original source of the content.
Additionally, Pinterest allows users to add keywords and descriptions to their pins and boards, which can make them more discoverable through search engines.
By optimizing their Pinterest profile and
content for SEO
, businesses and individuals can leverage the platform to
drive more traffic
to their website and improve their online visibility.
What is the most popular board on Pinterest?
Top 10 Pinterest Board Names
| | | |
| --- | --- | --- |
| Profile Name | Followers in Millions | Popular Board |
| Oh Joy | 15 | Recipies |
| Poppytalk | 10.5 | Entertaining + Fun |
| Maryann Rizzo | 9 | Everything |
| Mamas Uncut | 8.5 | Baby, Lifestyle, and Inspiration |
| Jane Wang | 7.7 | Delicious |
| Bonnie Tsang | 7.1 | Living Spaces |
| HonestlyWTF | 7.1 | DIY |
| www.pejper.se | 6.8 | Lovely Living |
| veanad | 5.2 | Beauty |
| Christine Martinez Loya | 5 | Words to Live By |
Woow, Now starts creating your own visual world of the things you interest, love and share your passion globally.
Let's check the collection list of the interesting & unique Pinterest board names idea below.
Art / Style, Aesthetic, & Beauty Pinterest Board Names
Beautiful Divaz
Beauty Passion Dare
The Pretty Girl
Lips Are Beautiful
Mesmerizing Beauty
Beautiful Hair And Lips
Beautilicious Bunny
Beautyizing
The Forbidden Fruit
The Good-Looking Board
Always Charming
Lovely and Handsome
Expert Makeup And Cosmetics
Cute Pinterest Board Names
Cutesy Collection
Giggle The Tummy
The Jubilee Board
Adorable Pictures
Baby Doll
Sugar and Pie
Angel's Paradise
Dinky And Twee
Pretty Collection
Cuddly Surprise
Bewitching Collection
Likable And Cute
Beloved Idol
Lover Boy
My Esteemed Collection
Such A Darling
Honey And Money
Lucky Charm
Sweeting Collection
Adorable And Lovable
Darling This Is For You
Charming Charlie
Archie
Lover Girl
Pink Love
Enchanting Glory
Deserving Affection
Sweetie Surprise
Hobby Pinterest Board Names Ideas
Hobbpost
Hobbylicious
Hobbymenmade
Manful Hobby
Hobbitizizng
Beauty Bobby
Girl With A Hobby
Unique Hobbies
Funny Pinterest Board Names
Pub Driver
Bribe The Masters
Pinlectronics
Pinstormz
Poopinsonpool
Dress Tasterz
This is My 18th Drink
Fake It With Quotes
Ocean of Miracles
Loop n Enjoy
Make It Count Dad
Fuzzy Things I Adore
Cats Gone Wild
Live Longer Party Stronger
Foodie Gone Crazy
My Life My Finger
Catch It Assilicious
Gone With The Money
Shoe Fantasy
Itzz about Cars
Holiday With A Kangaroo
Ultimate Guide To Fun
All-Time Best Pinterest Board
Pinimal Kingdom
Celebrities I Desire To Become
Easter Pinterest Board Names Ideas
Easter Eggs and Pie
Easter Decorations
Easter Breads
Easter Celebrations
Easter Quotes
Easter Wishes
Easter Facts
Easter Diaries
The Easter Board
Easter Bunny
Simple Easter Decorations
DIY Easter Decoration Ideas
Travel Pinterest Board Names
Travel Fun Beer
Travelmoon
Single Vacation Ideas
Mood Over Vacation
Holidaying is My Passion
Just Island Vacation
Couple Vacation Mad Love
Mad Vacationz
My Dream Holidayz Abroad
Honeymoon Travel Ideas
Fun Travel Beer
Explore The Worlds
Traveling Tips
Pinterest Board Names For Home Decor
Awesome Home Ideas
Beautiful Bricks And Mortar
My dream My Home
Dreamzhomecouple
Married Home Ideas
Teenager Room Ideas
My Pink Room
Golden Inspiration
Bricks and Garden
Sunshine Home
Home Garden And Children
Tattoo Pinterest Board Name Ideas
World of Tattoos
Girl Tattoos
Angel Tattoos
Boyz Tattoo
Kids Tattoos
Explore Tattoos
Hashtag Tattoos
The Ink Genius
Beautiful Tattoos
Simple Tattoos
Arm Tattoos
Wrist Tattoos
Beautiful Inspiration
Back Tattoos
Cute And Fascinating Tattoos
Lover Delight
Tattoos For Men
Temporary Tattoos
Cool Tattoos
Forearm Tattoo Designs
Tattoo Ideas
Manly Tattoos
Stylist and Best Tattoos
Gallery of Tattoos
Small And Cute Tattoos
Best Tattoos
Discover By Design
Tattoos For Girls
Lovely Tattoos
Elegant Tattoos
Different Inspirations
As Pretty As a Tattoo
Tattoo Collection
Mysterious Styles
Art of Tattoo Making
Hidden Tattoos
Pinterest Board Names For Best Friend
BFF Quotes
My Special Friends
Besties Are Forever
Dear Friends
Eternal Friends
Buddy And Me
True Moments
The Friendship Rose
Strongest Bond
Chimes Love
My Buddy My Companion
For My Special Friend
Forever Friends
My Friends My Style
Friendship Quotes
True Friends Are Forever
Heart Full of Love
Pinterest Board Name Ideas For Flowers
Flora & Ferns
Bloom That Spreads Happiness
Ferntastic
Unique Floral Species
Floras That Creates an Aura
Flowers, Flowers, and Flowers
Floral Fragrances
Life is a bed of roses
Petal it away
50 Shades of Autumn
Blooms & Buds
Romancing Fragrances/ Flowers
Dreamy Flowers
Fresh as a flower
Roses and blushes
Flower decoration ideas for weddings
How to use fresh flowers to decorate your house
Low maintenance domestic flowers range
Floral presents ideas for your loved ones
Say it with flowers
Pinterest Board Names Idea For Dresses
Golden Chick Collection
Beautiful Dresses
Pretty Dresses
My Dress Code
Trendy and Charming
Celebrity Inspired Dresses
Ladies Fashion
Beautiful Prom Dresses
Rose and Lily
Just Apparels
Gowns and Frocks
Party Wear Collection
Stylish Outfits For Girls
Jeans And Trousers
Designer Wear
Traditional Attire
Suits and Sherwanis
Swimsuit Collection
Floral Prints
Exquisite Gowns
Beautiful Dresses For Party
Long Gowns
Honeymoon Collection
Winter Collection
Summer Dresses For Women
Elegant Prom Dresses
Unique Dresses
Dresses For Women
Bold And The Beautiful
Bridal Collection
Funky Dresses For Women
Cocktail Dresses
Mermaid Collection
Denim Collection
The Dress Factory
Ultimate Modern Dresses
The Vintage Dress Collection
Printed Elegance
The Red Collection
Casual Style Guide
Animal Pinterest Board Names
Alsatian Fever
Dogs r Best Friendz
The Pet World
Tigers of The World
Amazing Elephants
Pug Fever
Just animals For You
Animals n Me
Animals and More For You
Zoo Board
For The Love of Animals
The Dog World
Petilicious
Stunning Animals Pics
Cool Dogs We Love
Horses Friends
Motivational Pinterest Board Names Ideas
Believe To Do
Ambition For Life
Take The Challenge
Clarity of Thoughts
Change Your Life
Dare To Do
Envisioning
Confidence n Commitment
Take It With Confidence
Enthusiasm With Purpose
Success With Clarity
Babes of Self-Confidence
Guys of Self-Confidence
Pinterest Board Name Ideas For Books
Wormy Book Worm
Books That Will Change Your World
Stop Dreaming Your Fantasies, Read Instead
Bookmark and continue
Book'o'clock
Books Over Bruchetta
Top Fiction / Non-Fiction / Motivational / Inspirational / Scientific / Psychological Books To Read In 2021
Bed, Coffee, Books
Flippin' Pages
Book, Book on the shelf
Book it either way
Bookissed
Read it along
Read All The Way
Reading Pies
Bless my read
Magnificient Reads
Read, Sing, Dance
Words From Wise
Must Reads
Pinterest Board Names For Jewelry
Bangle World
Necklace For My Love
For The Love of Jewelry
Crowns and Necklaces
Pretty When You Wear It
Kingdom of Jewels
Costliest Ornaments
The World of Ornaments
Magnificent Jewels
Amazing Gems
Queens of Ornaments
The Great Box of Ornaments
Timeless Jewelry
Beautiful As It Looks
King of Jewels
Amazing Craftsmen
Stunning Jewels of The World
Pinterest Board Names For Clothes
The Happy Clothing Ideas
Boho-Chic
Awesome Sweaters
Girl Style Ideas
The Classic Fashion
The Desi Style
Cute Outfits
The Pretty Lady
The Cool Style Guide
Punk Fashion
Charming Clothes
Fashion For Beginners
Gothic Fashion
Vibrant Fashion
Coats and Jackets Collection
Just Tracksuits
Head To Toe Collection
The Bridal Collection
Finest Choices For Dresses
Hoodies and T-shirts
Top Styles For Men
Stylish Boyz
Backless Beauty
Long Strap Dress Collection
Casual Bevy
Wedding Suites Collection
The Clothing Pin
Casual Wear Collection
The Top Fashion Styles
Pinterest Board Names For Hair
Good Hair Care
Best Hairstyles For Women
Gorgeous Hair
Hair Care And Styling
My Hair My Style
Styles For Every Hair Type
Happy Healthy Hair
Celebrity Hairstyles
Pixie Hair
Undercut
Best Natural Hair
Hair Is Beautiful
Trendy Hairstyles
Hair Styling Secrets
Iconic Hairstyles
Awesome Hair
Bob Hairstyles
Salon Fresh Hair
Blonde Hair Trends
Curly Hairstyles
Gorgeous Medium-Length Hairs
Style My Hair
Best Hairstyles For Men
Layered Hairstyles
Timeless Hairstyles
Best Short Hairstyles
Red Hair Trends
Cropped Hairstyles
Easy Hairstyles
Cutest Hairstyles
Curly Hair Trends
Pinterest Board Name Ideas For Makeup
Mighty Mascara
Makeup Done Right
Peppy Makeup Ideas
Contour, Conceal, Confident
Lashes Over Smashes
Guilty Lips
Passion Dip Beauty
Beauty Personified
Glitter, Glow, Glamour
Book My Makeup
Make way for makeup
Real Radiant Makeup
Blend, Smudge, Tap, Repeat
Wake-up and Make-up
Pastel lips
Lips, Lashes, Love
Get, Set, Makeup
Makeup Ideas For Amateurs
Attract Attention
Naughty, Rosy, Bossy
Pinterest Board Names Ideas For Nails
Gel Art
The Ultimate Nail Art
Nail Decor
Easy Nail Ideas
Amazing Nail Designs
Glitter Design
Cute Flowers
Red and Black
Classy Art
Nail Art For Summer
Beautiful Nail Arts
Nail Art and Care
Trendy Manicure
Nailterest
Fantastic Nails
Nail Spa
Valentine Nails
Nail Accessories
Christmas Nail Designs
Glitters and Shine
Nail Trends
Naughty Nails
Nailastic
Amp your nails
Nail Game on Point
Perfect Nails
Glamorous Nails
Nourish your nails
Trendy Nails
Acrylic Nails
Classy Nail Art
Funky Nail Arts
50 Shades of Red
Nude or Loud
Sparkly Nails
Valentines Nail Ideas
Easy Nailart Tricks for Beginners
Delightful Nail Ideas
Texture Nail Art
Lime, Summer and Perfect Nails
Shimmery Nails
Pinterest Board Names For Food
Best Ever Dinner Recipes
All Food And Recipes
Just Breakfast
Juices And Shakes
All-time Top Recipes
Family Meals
My Recipe Box
Gourmet Cooking
The Meal Pot
Fabulous Recipes
Recipe Ideas
Healthy Breakfast Ideas
Super Lunch
Buffet For All
Foodies
Food Lovers Paradise
For The Love of Food
Mango Mood
I Love My Food
Cakes For All
Bake Buddy
Heavenly Drinks
Sweet Custard
Best Comfort Food
Chicken Recipes
Massive Recipe Collection
Vegetarian Recipes
Home-Cooked Meals
Yummy Delights
Step By Step Recipes
Great Chef Recipes
Best Pinterest Board Names Idea For Wedding
The Wedding Bells
The Perfect Wedding
Bride And Groom
Best Wedding Gifts
Superb Wedding Themes
Wedding And Honeymoon
My Marriage Story
Happy Couples
For My Marriage
Marriage Story
Wedding Style Guide
Celebrity Weddings
Wedding Makeup
Best Beautiful Brides
The Wedlock
The Special Day
Marriage Photos
Perfect Wedding Ideas
Wedding Couture
The Wedding Party
Wedding And Engagement
Wedding Showstopper
Marriage Box
Cuteness
Pinterest Board Names Ideas For Plants
Nature And Me
Plantfluencer
Plants And Flowers
Garden Plants
Green Edge
Plants And Shrubs
Pet-Friendly Plants
Care For Plants
My Love For Plants
Greenspiration
Houseplants
Planting Tips And Advice
Paramount Plants
Artificial Plants
Best Plants For Your Home
Indoor Plants
Plant Spotlight
The Green Life
Best Desk Plants
Everything Plants
Oxygen in Abundance
The Greener Side
Plants And Trees
Plants And Pots
Bonsai Plants
Bedroom Plants
Plants And Seeds
Just Plants
Pets And Plants
Explore Plants
Plant Sciences
Sunrise Plants
Medicinal Plants
Plants For Kids
Cactus And Algaes
Pinterest Board Names For Photography
Film And Camera
Stunning Pictures
Unusual Photography
Inspirational Photos
Beautiful And Lovely
Photo Pins
The Universal Image
Nature Images
Stunning Models
The Clear Picture
World In My Lens
Capturing Nature
Wonderful Moments
Amazing Photoshoots
The Great Discovery
See Them To Believe Them
Cool Snaps
Beautiful Background Photos
Festival Pics
The Birthday Camera
The Magic Photo Album
Celebrity Pictures
Breathtaking Images
Sweetest Pictures
Family Pics
My Photo Galaxy
Baby Photos
Stunning Car Pics